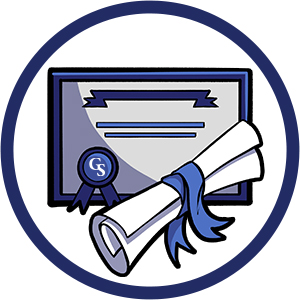 Choose any of the 13 different professional programs that meets your career goals. Flexible, self-driven courses with interactive online class material allows you to study at your pace regardless of work, family, or other demands on your daily schedule.
Your genealogical trade school certification increases opportunity, knowledge, experience, and income.
Our philosophy: We have grace and mercy for adults who are adulting. Why? Everyone needs a little help to reach their goals when they're already working, raising a family, and caring for loved ones. We help you fit continuing education into your busy life.
Grace and mercy are what makes the International Institute of Genealogical Studies a professional trade school that's different than other programs and especially helpful to busy adults. Our goal is to help you reach your goal in becoming a professional genealogist or advancing your education in genealogical studies.
If you run into a schedule challenge, we offer a grace period up to two weeks after the course ends. That grace period means you can move at no charge into the same course at a future date. Assignments are not erased and will be there waiting for you.

Many students are supported by their employers, organizations, and special programming funding. Whether you or your employer pays for genealogical certification, professional growth builds a strong, respected resumé. Professionals in law enforcement, teachers, legal experts, librarians and docents managing genealogical and/or historical collections, family history societies all need continuing education credits.
Register to earn your Professional Learning Certificate Genealogical Studies from the world's only trade school for genealogical education—begin your new career or enhance education to advance your career today!
PLCGS (Professional Learning Certificate Genealogical Studies) is the post nominal credentials you'll earn for completing 40 or more credits including three elements of study — full Methodology certification, a full country records certification, and choosing the remaining electives. We suggest a strategic approach to electives such as choosing the DNA courses as your electives. Being strategic with your course choices helps you earn additional certifications and expertise. We'll guide you along the way to make sure you choose the courses for your goals.
Need help? Call 1-800-580-0165